Prepared Hero Fire Blanket
Regular price
$29.99
Sale price
$34.99
Unit price
per
Tax included.
Shipping
calculated at checkout.
Rapidly Extinguish Small Fires, No Mess - Introducing Our Easy-to-Use Fire Blanket!
✅ Lightweight & Versatile: Effectively suppresses liquid or grease fires and works on different types of fires. Also functions as a thermal or heat shield.

✅ Essential Kitchen & Outdoor Gear: A must-have for your kitchen, backyard, and vehicle survival kit, providing reliable protection.


✅ No Mess Solution: Made from 100% quality flame retardant material. Composed of two layers of woven fiberglass fabric and an inner layer of fire retardant film.

✅ High-Temperature Resistant: Isolates high temperatures up to 1076°F (580℃), ensuring safety in critical situations.
So How Does The Emergency Fire Blanket Work?
The secret behind the Emergency Fire Blanket is its safe, super-efficient, fire-starvation formula.

What do you think fire extinguishers' main function is in stopping fires?

Well, besides obviously, a fuel source, what is the one thing that a fire must have in order to thrive, grow and create havoc?

That's right…

It needs oxygen. The Emergency Fire Blanket's special fiberglass-based lining covers the fire and separates it from its needed oxygen supply, snuffing it out completely, and it does this as quickly and effectively as nearly every other home firefighting product on the market
The Emergency Fire Blanket Is Super Easy To Use

All you have to do to protect your family and your home from a fire emergency is:
Keep the Emergency Fire Blanket mounted on a kitchen wall, in a cupboard or a garage, or near a barbecue or a campsite…wherever a fire might occur.

If a fire happens to break out, simply cover the fire with the Emergency Fire Blanket. Very soon, the fire is extinguished. That's it
You've successfully protected your home from a possibly life-threatening disaster. Quickly, and without dangerous chemicals, or a burn risk, or a huge mess. Congratulations!
Then, sit back and feel confident and in control of your home's safety!
The Emergency Fire Blanket works on grease, electrical, wood, paper and other common fires.
Why Do Fire Fighters Love Them?

🚨 Alarming Fact: 48% of all home fires start in the kitchen.

Most start from simple oil based cooking. A few tablespoons of oil at the wrong temperature and disaster can happen in the blink of an eye. They are more common than people think, yet it can happen to anyone.

Keeping the Prepared Hero Fire Blanket in your kitchen is one of the most important decisions you can make for you and your family. Just pull the straps to release the fire blanket, cover it over the fire and it's quickly suffocated before getting out of control.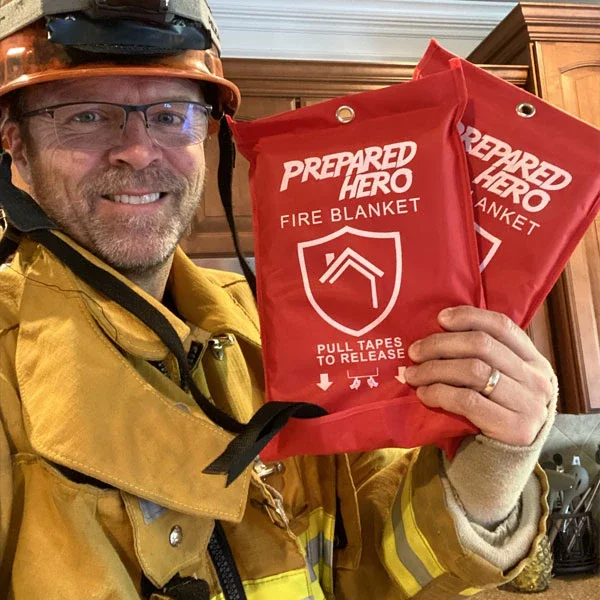 It's so incredibly simple to use, and for good reason. Even children or elderly can handle it. No more heavy, messy and complicated fire extinguishers.

Keeping at least one in the house per person is vital. It's a one time purchase that can save lives and thousands in damages.
310,000+ Customers Prefer Prepared Hero
Prepared Hero has over 310,000 happy customers with an average review of 4.7 out of 5 stars.

Many Fire Departments and Fire Fighters approve of Prepared Hero Fire Blankets. See what some people are saying:

"DO NOT SKIP THESE! It quite literally saved our home from going up in flames! My son was frying bacon and let it get too hot, the grease burst into a fire so quickly. I'm glad I taught him how to use the fire blanket, he was able to put it out before it got out of control! Every home needs this."

"I wish every family had one of these in their home. It would save so many lives."
---
Share this Product
QUESTIONS & ANSWERS
Have a Question?
Be the first to ask a question about this.
Ask a Question
---