Nooro Knee Massager
Regular price
$179.00
Sale price
$359.00
Unit price
per
Tax included.
Shipping
calculated at checkout.
Struggling With Knee Pain, Inflammation, Osteoarthritis, Meniscus Tear or Even A Bone On Bone Knee?
Eliminate your knee pain and help your knees to reverse the damage with the Nooro™️ gentle heat and infra red therapy or 100% of your money back guaranteed!
✓ Eliminate knee pain the healthy way (no more painkillers)
✓ Help your knee to recover & reverse the damage
✓ Regain mobility and a healthy lifestyle
✓ Avoid expensive surgeries and procedures
Professionally Recommended To Treat Knee Pain:
… and by 15,000+ Happy Customers ⭐⭐⭐⭐⭐
Eliminate Knee Pain The Natural Way
Too many people suffer from chronic knee pain for years on end and struggle staying active because they fear the consequences of medical procedures.
The most common knee pain treatments are harmful and often ineffective shots or extremely risky surgeries.People are left with having pain every single day at every single step or deciding for procedures that can cost too much and be completely ineffective.The Nooro™️ was developed for this exact reason: To provide a healthy, natural way to relieve knee pain while allowing the knee to gradually reverse the damage.
How (And Why) It Works
The Nooro™️ uses targeted red light therapy and heat therapy that increase blood flow, eliminate inflammation and help restore the natural cartilage layer in the knee which results in the reversal of damage and elimination of your chronic pain, osteoarthritis and swelling & stiffness.
You've probably tried several other knee pain products that promise the world and fail to deliver. And, I'm here to tell you it is not your fault that you're still in pain.

Those other pain relief devices usually only mask the pain and don't target the root cause of the pain. This leaves the real problem untreated and makes things much worse.

After two years of testing, sampling, and designing prototypes, and after spending
$67.00
, we stumbled upon the breakthrough combination of:
Red Light therapy helps collagen production. Increasing collagen production helps to reverse the damage to cartilage in your knees.

Heat therapy stimulates blood flow. This allows more blood, oxygen, and nutrients to be delivered to the injured tissues. Activating body's self-healing mechanism.
Massage therapy relaxes tight muscles and tissue. Your knee pain is replaced with a feeling of bliss and relief.

Targeting all three elements of knee pain was the secret sauce that results in the instant relief of chronic pain i your knees.
No More Swollen and Painful Knees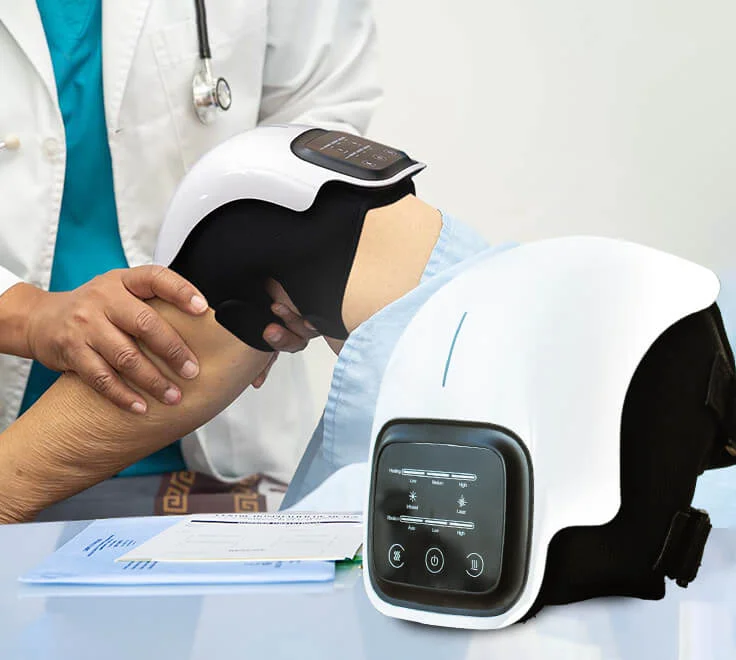 ✅Relief from knee pain, osteoarthritis, bursitis, meniscus & tendonitis issues.
✅Perfect for post-surgery recovery
✅Reverses damage in the knee joint
✅Warms up & lubricates the joint for a pain-free day.
✅Amazing for athletic recovery 
✅Helps you get back to hiking, cycling and jogging pain-free
✅Helps to avoid risky and dangerous surgery
✅Saves time & money on inferior alternatives.
✅Completely adjustable heat & massage
---
Share this Product
QUESTIONS & ANSWERS
Have a Question?
Be the first to ask a question about this.
Ask a Question
---